BASIC INFO Inquiry
Hot dog roller warmer offers stainless steel construction and sits well on table top with glass tank. The rubber feet prevent the unit from sliding while each roller houses its very own heating element to provide regulated and even heating. This unit is great for producing juicy hot dogs, bratwursts and sausages.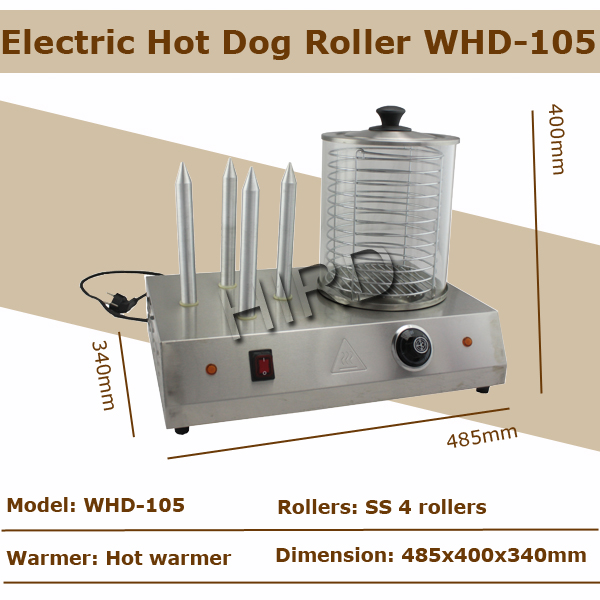 Holds 10-15 hot dogs
Cooks juicy hot dogs, bratwursts, and sausages
#201 Stainless steel construction
Commercial hot dog roller grill
4x chrome plated rollers
Individual 360° roller rotation
Individual heating elements per each roller
Energy regulator control
No-slip rubber feet
High quality power cord
Glass warmer cup with cover.
WHD-5




Voltage:220V;Power:0.5kW

roller: 5; Teflon rollers are available for order.

Material:201stainless steel

Size: 440x250x175mm

Carton: 490x300x215mm



WHD-7




Voltage:220V;Power:0.7kW

roller: 7;Teflon rollers are available for order.

Material:201stainless steel

Size: 440x325x175mm

Carton: 490x375x215mm



WHD-7L




Voltage:220V;Power:0.7kW

roller: 7;Teflon rollers are available for order.

Material:201stainless steel

Size: 550x325x175mm

Carton: 600x375x215mm





WHD-9




Voltage:220V;Power:0.9kW

roller: 9;Teflon rollers are available for order.

Material:201stainless steel

Size: 550x400x175mm

Carton: 600x450x215mm





WHD-10




Voltage:220V;Power:1kW

roller: 10;Teflon rollers are available for order.

Material:201stainless steel

Size: 550x430x175mm

Carton: 600x565x215mm





WHD-11/C




Voltage:220V;Power:1.4kW

roller: 11;Teflon rollers are available for order.

Material:201stainless steel

Size: 550x475x175mm

Carton: 600x525x215mm





WHD-14T




Voltage:220V;Power:1.4kW

Roller: 14,Teflon ;

Material:201stainless steel




Size: 550x475x175mm

Carton: 600x525x215mm






WHD-105




Voltage:220V;Power:0.9kW

Vertical roller: 4;

Material:201stainless steel




Size: 485x340x400mm

Carton: 540x375x415mm