BASIC INFO Inquiry
WF Series electric chicken fryer is a new kind of electrothermal product researched and developed lately by our company. This series countertop fryer adopts the international popular style design, good quality of stainless steel body, luxurious and good-looking.The products are equipped with electrical elements from famous factories so that they are energy-saving and safe. The featured design as rotating the fryer head, convenience, practicality and clean easily. Be provided with thermostat function, operate briefness. It is the best choice for commercial cooking supplies china manufacturing.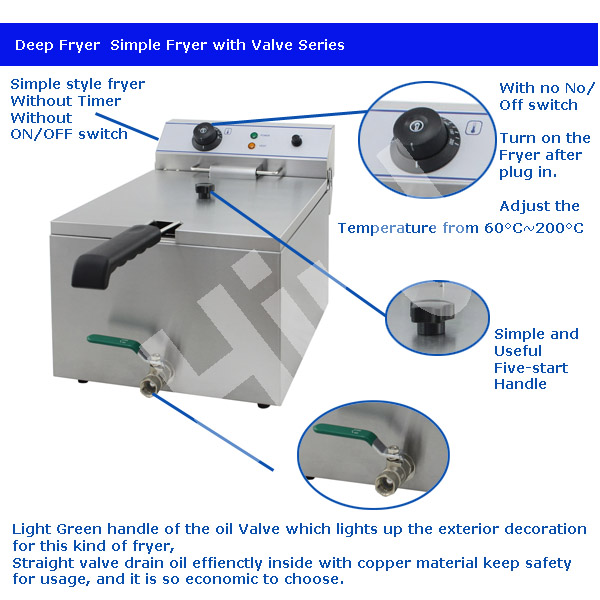 · High-grade stainless steel construction. Beautiful and practical.
· Efficient heating element, Warming rapidly.
· Heating module can be lifted up for easy cleaning. When the heating module is detached, power supply to the heating element is cut off instantly for safety.
· Removable oil pan can be lifted up for easy draining.
· Thermostat controls up to 200oC and provides quick response to temperature change.
· Temperature limit safety device prevents overheating: manual reset.
· Water-proof on/off switch with oil resistant protection cover.
· Portable and Durable.
countertop deep fryer electric restaurant deep fryers for sale
WF-101SV




Voltage:220V;Power:3kW;

Capacity:10L;

Material:430stainless steel;

Certificate: CE

Product Size: 280x460x325mm

Carton Size: 330x530x375mm



WF-131SV




Voltage:220V;Power:3+3kW;

Capacity:10+10L;

Material:430stainless steel;

Certificate: CE

Product size: 310x480x345mm;

Carton size: 360x545x385mm;



WF-171SV




Voltage:220V;Power:3kW;

Capacity:17L;

Material:430stainless steel

Certificate: CE

Product size: 293x500x330mm

Carton size: 340x560x380mm